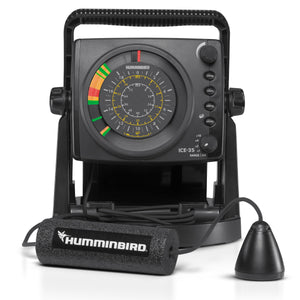 Humminbird Ice-55
The Ice 55 fishing flasher has a 6-color, industry-best fiber-optic flasher display that offers unmatched performance and gives greater distinction between targets in the beam.  It also features an extreme temperature LCD with digital depth and automatic depth scale.  Its unique purple target line allows fishermen to set a visual indicator at a specific depth to know exactly how far to lower their jig.  Professional-grade carrying case included.  Rely on humminbird ice flashers to find your spots and keep your cooler full. Selectable dual frequency.
Frequency:
240 KHZ / 19 degree @ -3DB
455 KHZ / 9 degree @ -3DB
Depth: 200 FT.
Power Output:
300 watt (RMS)
2400 watts (PTP)