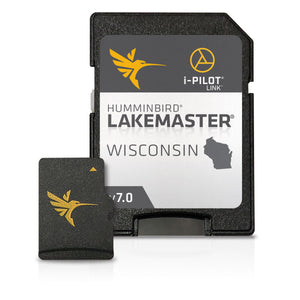 Humminbird Lakemaster Digital Maps - Wisconsin
The Humminbird LakeMaster Wisconsin Edition, Version 7, micro map card with SD adapter has added over 500 new lakes since the prior version - 45 of them High Definition – and boasts or more than 260 High Definition lakes and over 1,700 total lakes from WI.
Newly surveyed waters in WI include - Lake Michigan (North, South and Central); Sturgeon Bay, Loon Lake, Mississippi River Pool #4, Lost Land, Teal Lake and many more.

LakeMaster SD/micro cards include features such as Depth Highlight, Shallow Water Highlight and Water Level Offset, which can be used exclusively with Humminbird fish finders

Can be used with Minn Kota i-Pilot Link, allowing you to "Follow" a selected depth contour line, delivering precise, automatic boat control

Scrollable lake list allows you to view and research lakes from your Humminbird fish finder on and off the water

Opened packages are not eligible for return.

LakeMaster cards are compatible with all GPS-equipped HELIX, SOLIX, ONIX and ION Series models, along with select 600-1100 Series models.