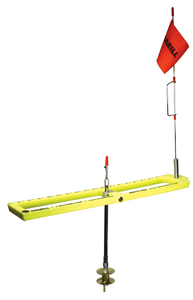 Frabill Arctic Fire Tip Up
The Arctic Fire Tip-Up is pre-lubed with Frabill®'s exclusive Sub-ZeroTM winter lubricant for friction free performance at any temperature. 
Designed with large capacity spool with bait clip feature and dual counterbalance crank knobs. Removable spool shaft allows for easy cleaning and relubrication. Its hi-visibility neon color makes this Tip-Up easy to spot.