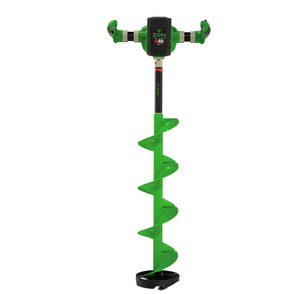 Ion G2 Auger
The ION G2 signifies the next generation of ION ice auger technology. Faster than the competition and 29% lighter, the ION G2 ups the ante when it comes to speed, weight and longevity in a Lithium Ion Ice Auger. This unit comes 2 4Ah Gen 2 battery, its single cell protection ensures a long battery life, and optimal performance in the cold. The composite polymer bottom allows for the smoothest cut, in the lightest possible package, all with incredible durability. More speed, more power, more holes, and less weight.
2- 4Ah batteries included
Drill up to 2400 inches of ice.
8in weight is 17lbs
10in weight is 18lbs