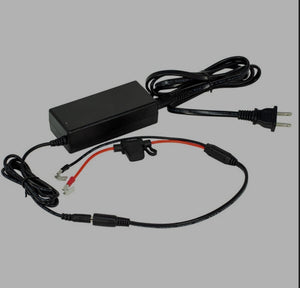 MarCum Lithium 12V 3Amp Charger
The MarCum Lithium Ion Charger works with the MarCum Mite 12v7.5amp Lithium Ion Battery Only.  The MarCum Mite charger is multi-stage for fast initial charging, reduced-charge near full, and a maintain charge cycle to prevent overcharging.  A full charge will take 3 – 5 hours.  This charger is NOT compatible with Lead-acid , LiFePO4 batteries OR Lithium Shuttle Batteries.
Marcum offers a number of power source options to power electronics, such as sealed lead-acid (SLA), Lithium Ion, and Lithium LiFeP04.  This specific charger was developed to function with the Lithium chemistry in the MarCum Mite battery.
12V3AH Lithium Ion MarCum Mite charger
Lithium Ion compatible charger – not for use with SLA or LiFeP04 batteries
Multi-stage charge types include fast, reduced-charge, and maintain cycles
Full charge cycle – 3 – 5 hours