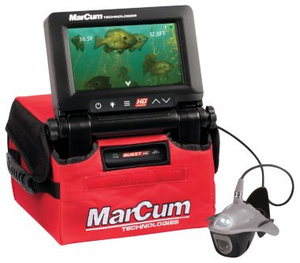 MarCum Quest HD Underwater Camera
The Quest HD allows you to explore the underwater world in razor sharp high-definition detail. A Full 1080p Camera paired with MarCum's exclusive relative direction, depth and temperature readings of the camera join to create superior optics. Combined with the brightest screen MarCum has ever produced and 75 feet of cable, the Quest HD delivers the most optically superior underwater camera system for Total System Performance. Come and enjoy the benefits that superior optics yields.
Sony 1080p HD Camera with the most powerful lowlight capable image sensor produces unmatched image quality. 7-inch wide-screen vivid display with full 1080p HD video out. Solar Intelligent Technology offers 100% daylight view-ability. Color Kill Technology affords the best possible image in color and black and white. On-Screen Display Technology delivers critical information on the monitor: Relative Direction, Temp, Depth, and Battery Status. Relative direction On-screen arrow indicator displays the direction that the camera is pointing.
One year manufacture's limited warranty.
DISPLAY

7" Widescreen Vivid Display • 1080p HD Video Out • Hi-Res Color LCD • Solar Intelligent Technology

RESOLUTION
CAMERA/CABLE

Sony 1080p HD • 1/3" Image Sensor • .01 Lux Camera • Darkwater LED Lighting • Down View Stabilizer Fin • 75 ft. Camera Cable

ON SCREEN DISPLAY

Relative Direction, Temp, Depth, Battery Status, Brightness, Contrast, Sharpness and Color Kill

ACCESSORIES INCLUDED

Sunshield • 12-volt, 9-amp Battery • 3-Stage Battery Charger • Soft Pack Shuttle