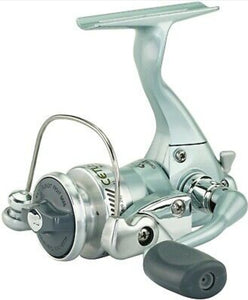 Tica Cetus LF500
TICA's Cetus reels have taken the ice fishing industry by storm! Great for pan and squid fishing, fishers often have multiple Cetus reels. The LF500 features 2 rust-resistant ball bearings and 1 roller bearing. This reel is also equipped with an instant anti-reverse system and a computer-designed balanced rotor, giving the reel smooth action for any kind of light tackling. The Cetus reel series are the smallest and lightest reels in the TICA product line. You will never get tired of casting and retrieving with Cetus reels!
■ 2 Rust resistant ball bearings
■ Mini bearing inside the line roller
■ Computer designed balanced rotor
■ Instant anti-reverse
■ Smallest and lightest reel in the TICA product line
■ Right/ left interchangeable handle.
■ Ideal for smaller species like trout and panfish; also makes a great squid fishing and backpacking reel