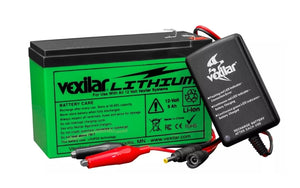 Vexilar 9Ah Lithium Battery with Charger
Have spare power ready anytime with the Vexilar® Lithium Battery with 1A Charger. This Vexilar battery provides the ideal drop-in replacement for any current Vexilar flasher or pack battery. LiFePO4 technology delivers twice the re-charging cycles over sealed lead-acid batteries. Weighing in at 2.75 lbs. this lithium flasher battery has half the weight of the Vexilar SLA battery. Includes convenient 1A charger for ultimate readiness.
Manufacturer model #: V-120L.
Drop-in replacement battery for any current Vexilar flasher or pack
LiFePO4 technology: twice the re-charge cycles of SLA batteries
Half the weight of Vexilar SLA battery
Includes Vexilar 1A charger